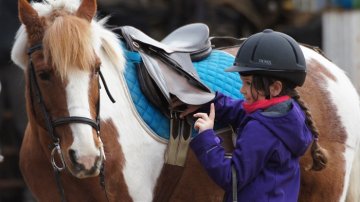 Miron Valley Stable is an equestrian centre located just minutes from downtown Trenton, Ontario.
We pride ourselves in offering quality and value to our customers all year round.
Some of the services we offer are: English & Western lessons, Hunter and Dressage lessons, March Break & Summer camps, horse boarding and birthday parties.  We also support many local shows and clinics all year round.
Our safe, friendly & caring environment allows horses to live naturally and riders to relax. Miron Valley Stable is evolving all the time.
*  Visitors are always welcome  *
Latest News
Summer riding lessons starting each week (days and Wednesday evenings) and some Saturday mornings.  Lessons on great ponies/horses for children and the young at heart…..please contact Cori at 613-394-5587 for more information.
"MVS Horse Club" starting September 19th.  This will be a club for new beginner riders and children that want more horse time, every other Saturday for 4 hrs/day (11am-3pm).  Club will have structured lessons, grooming, handling, horsemanship, feeding and first aid.  This will run from September till December.  Please contact Cori for more information on this new Saturday Horse Club.  Limited spaces.  A $40 cash non refundable deposit will be paid to hold each spot per child.  Total cost per child for the 4 months (7 sessions) is $316.40.  Please come out for a visit.