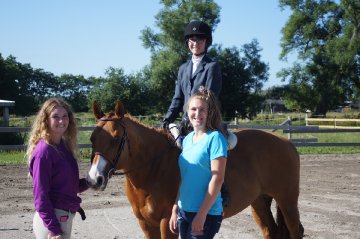 Miron Valley Stable is an equestrian centre located just minutes from downtown Trenton, Ontario.
We pride ourselves in offering quality and value to our customers all year round.
Some of the services we offer are: English & Western lessons, Hunter and Dressage lessons, March Break & Summer camps, horse boarding and birthday parties.  We also support many local shows and clinics all year round.
Our safe, friendly & caring environment allows horses to live naturally and riders to relax. Miron Valley Stable is evolving all the time.
*  Visitors are always welcome  *
Latest News:  Fall Beginner Club starting in October
Saturday afternoon Beginner Club.  This will be for kids with no experience, little experience and wanting to start up again from taking time off.  Club will start at 12:30pm and ends at 3:30pm each Saturday.
Here at MVS we want the kids to learn from the beginning and one hour sessions go by to quick.  Allowing the kids to come for 3 hours will give them time to be patent, grow a bond and build a level of trust with their pony.   One of the hardest things is to learn putting on a bridle.  Figuring out how your two hands work together, getting the ponies mouth open and keeping the bit in once you get it in, two straps hanging down that need to be done up….how tight and then there is two ears that have to go somewhere, keeping the head still…..lol very confusing, but now we have all the time in the world with club to practice.
Saturday Club is for boys and girls ages 6-16yrs.  $40 cash per Saturday, 12:30-3:30pm.  For more info please call Cori at 613-394-5587.  Visitors are always welcomed.
To sign your child/children up, so please call ahead of time.  There is limited spots.